Santa Monica is one of the most beautiful, luxurious coastal cities in the U.S.—and has earned its reputation for being a trendy, laid-back beach town. From the scenic beaches to the Promenade to the city's famous Pier, Santa Monica offers a lifetime's worth of exciting activities for travelers and residents.


Below are five ways to spend a day in sunny Santa Monica.
1. Hit the beach for some fun in the sun
Above all else, Santa Monica is a beach town, and each of the city's beaches has its own vibe. Whether you're looking for a relaxed surf spot or a place to tan by the pier, Santa Monica real estate provides easy walking and biking access to every corner of town.


There are two main beaches in downtown Santa Monica: North Beach and South Beach. Technically, both North and South Beach are a part of the Santa Monica State Beach, but the two are separated by the Santa Monica Pier and Fairgrounds. North Beach is a wide sandy beach that runs north from the Pier towards the city limits, where it eventually connects with another famous beach in the area, Will Rogers Beach. North Beach tends to be slightly less crowded than South Beach due to it being cut off from the city by the palisades—a large ocean bluff. Pathways and bridges connect North Beach to the rest of the beach.


South Beach runs south from the Santa Monica Pier and is level with the city. South Beach is parallel to many homes, hotels, and dozens of bars and restaurants, making it a bit more lively than North Beach—especially at night. Patrons love that South Beach features numerous parks, making it a great place for a picnic, party, or get-together with friends.
2. Walk the Santa Monica Pier
The pier features some of the best bars, clubs, restaurants, and attractions in Santa Monica, as well as an amusement park, complete with roller coasters and a gigantic Ferris wheel. You can easily spend a day hanging out at the Santa Monica Pier and its adjacent beaches and restaurants. The atmosphere is fun and exciting, the views are second to none, but the crowds can be large. Keep in mind that if you're in town during the summer, the pier hosts a free annual outdoor summer concert series that occasionally features performances by popular artists.


If you only have one day in Santa Monica, you should grab your bathing suit, a towel, and some sunblock and head down to the Santa Monica Pier. For the best photo-op, walk south of the pier towards South Beach at sunset, and snap a pic with the pier and the ocean in the background.
3. Retail therapy at the Third Street Promenade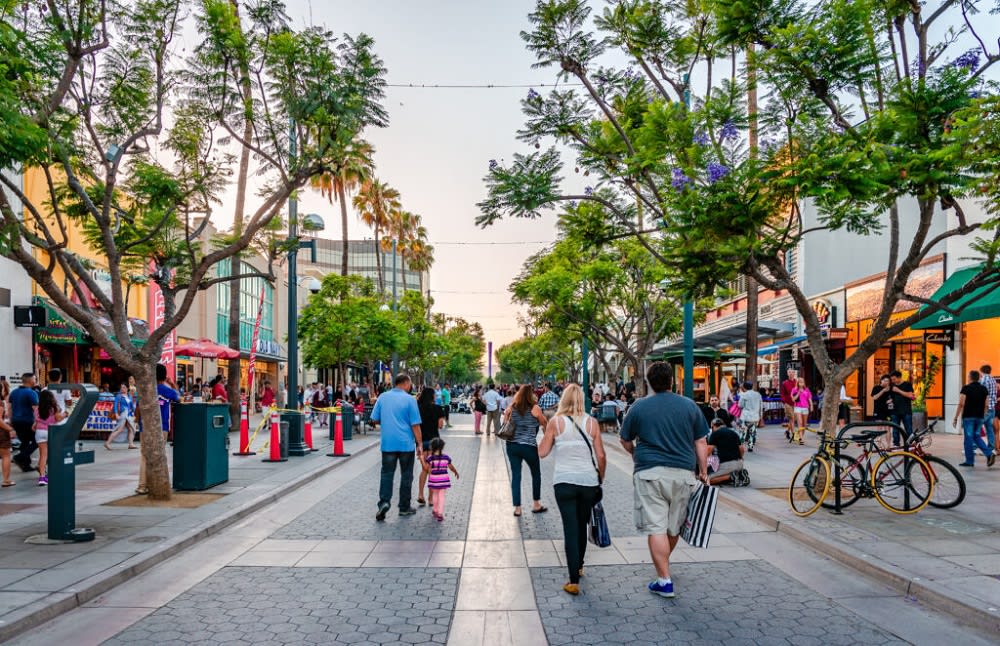 Photo courtesy of Tribe Pilates
As awesome as the Santa Monica Pier is, the crowds can be overwhelming at times. If you're in the mood for something a little more low-key, consider heading over to the nearby Third Street Promenade, a massive outdoor mall that spans the length of an entire street.


There are plenty of great shops along the Promenade, including hip, high-end boutiques, but the real attraction is the energy. From street performers to live music, it's hard to put a finger on exactly what makes the Promenade so special. It's something you just have to experience for yourself. Of course, if you get hungry or want to grab a drink, there are plenty of restaurants and bars along the Promenade that will hit the spot.
4. Hike the Santa Monica Mountains
Nature-lovers should tie on their running shoes and head to the
Santa Monica Mountains National Recreation Area
. Located just outside the city limits, the Santa Monica Mountains reward those who make the trek with some of the best views in the region. A wealth of activities are available at Santa Monica Mountains National Recreation Area, including hiking trails, rock climbing, mountain biking, and bouldering. The area is a veritable wonderland for those who love outdoor sports and activities.
Additionally, you don't need to be a rock climber to get great views from the mountains; there are plenty of gentle paths leading up to spectacular viewpoints, with numerous majestic parks along the way to stop and rest. And if you like a challenge, you'll be rewarded with unparalleled vistas, especially if you go at sunrise or sunset.
5. Enjoy the outdoors near Downtown Santa Monica
The Mountain Rec Area isn't the only place to enjoy the great outdoors in and around Santa Monica. If you feel like biking, skating, jogging, or strolling along the coast, then head on down to Palisades Park, where you'll have endless views of the classic LA coastline.


While you're out for a stroll, head over to the Santa Monica Farmer's Market. It's the city's best place to get fresh, organic, non-GMO fruits and vegetables—while also supporting Southern Californian farmers. You haven't really been to Santa Monica until you've walked through the Farmer's Market.


If you're looking for a bit more exercise, then grab your bike and pedal over to the Marvin Braude Beach Trail, commonly known as "The Strand" by locals. There you'll find miles of oceanfront bike paths that will ensure you have one of the most scenic and memorable rides of your life.
Searching for Santa Monica homes for sale?
With year-round sun, some of the most beautiful beaches in the country, a variety of indoor and outdoor entertainment, and limitless access to recreation and Los Angeles, Santa Monica is a great Southern California location to own real estate.
Megan Whalen
and Niko Corado are experienced local Santa Monica realtors specializing in
Ocean Park
, Sunset Park and beyond. If you fall in love with Santa Monica and decide you never want to leave,
contact Megan Whalen Partners today
.